As usual in Nigeria there is a massive controversy brewing over the application of the country's constitutional "federal character" provision for recruitment into a government agency. The State Security Service (SSS) is Nigeria's equivalent of America's FBI, the British MI5, or Israel's Shin Bet.
Recruitment statistics for the latest batch of recruits into the SSS shows that new recruits from northern Nigeria overwhelmingly outnumbered those from the south. Katsina State (the home state of Nigeria's President Muhammadu Buhari and the the Director-General of the SSS Lawal Daura) had more recruits that any other state in the country. In a country as sensitive to allegations of nepositism, and ethnic, religious, or geographic favouritism as Nigeria, lopsided recruitment into a national agency is bound to cause trouble. Especially if recruitment shows that people from the same state as the president as the head of the SSS are being favoured.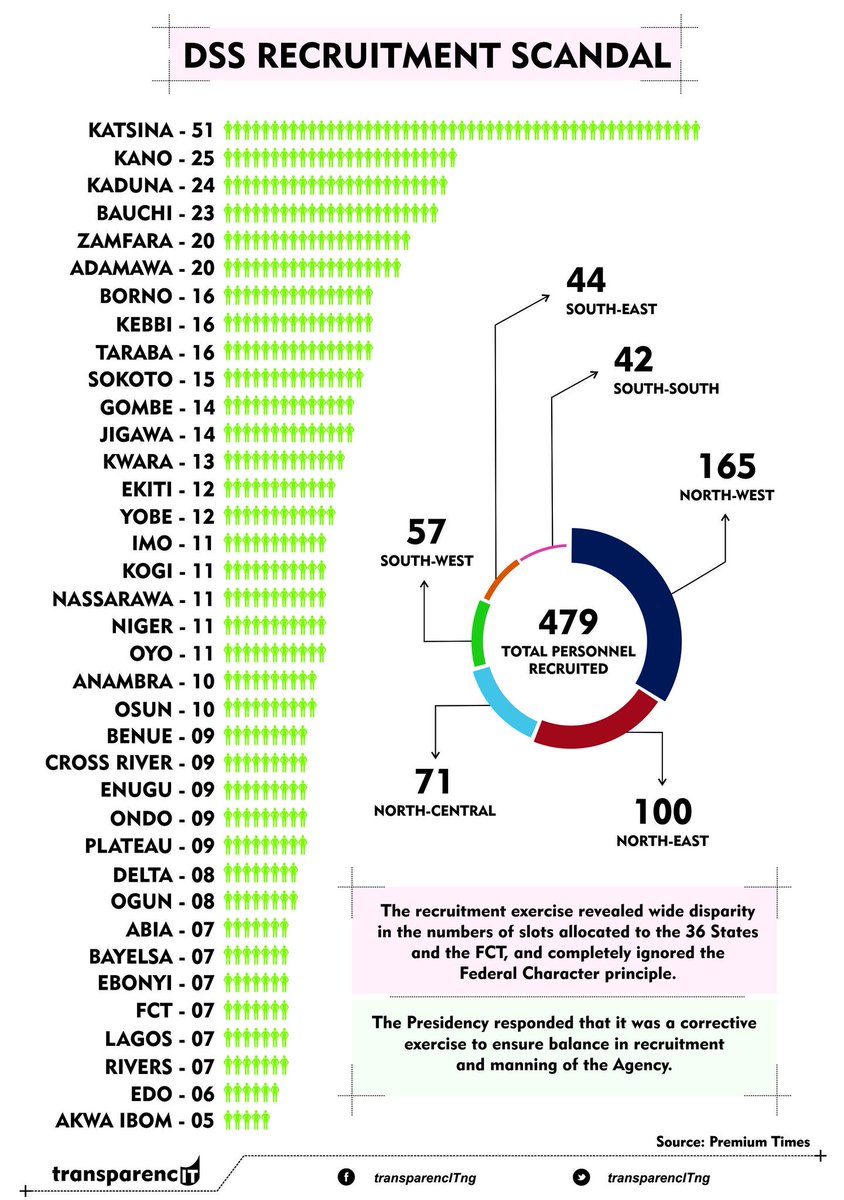 The SSS commissioned 479 new recruits in March 2017. Of that 479 51 were from Katsina State alone, 165 are from the North-west, 100 from the North-east 100, and 71 from the North-Central zones of Nigeria. This means that over 70% of the latest SSS recruits were from northern Nigeria.
The table below summarized the total number of recruits from each state:
| STATE | Number of Recruits |
| --- | --- |
| Abia | 7 |
| Adamawa | 19 |
| Akwa Ibom | 5 |
| Anambra | 10 |
| Bauchi | 23 |
| Bayelsa | 7 |
| Benue | 9 |
| Borno | 16 |
| Cross River | 9 |
| Delta | 8 |
| Ebonyi | 7 |
| Edo | 6 |
| Ekiti | 12 |
| Enugu | 9 |
| FCT | 7 |
| Gombe | 14 |
| Imo | 11 |
| Jigawa | 14 |
| Kaduna | 24 |
| Kano | 25 |
| Katsina | 51 |
| Kebbi | 16 |
| Kogi | 11 |
| Kwara | 13 |
| Lagos | 7 |
| Nassarawa | 11 |
| Niger | 11 |
| Ogun | 8 |
| Ondo | 9 |
| Osun | 10 |
| Oyo | 11 |
| Plateau | 9 |
| Rivers | 7 |
| Sokoto | 15 |
| Taraba | 16 |
| Yobe | 12 |
| Zamfara | 20 |
http://www.premiumtimesng.com/news/headlines/229803-exclusive-sss-in-recruitment-scandal-katsina-51-akwa-ibom-5-kano-25-lagos-7-see-full-list.html